Product Detailed Description
Output Materials Type: Fused Deposition Modeling
Molding Method: 3D Modeling
Printing Area: Unlimited
Input: AC 110V-240V
Output: DC 12V 3A
Nozzle Diameter: 0.7-0.4mm
Filament Diameter:1.75 mm
Sprinkle Speed: Adjustable
Heating Temperature: 160 to 250 Degree Celsius (Adjustable)
Dimensions: 220 x 170 x 70 mm
Wight:62 g
Package weight:420 g

Advantages of our pen is patented nozzle- no burning damage risk ( eariler than 3d doodle) ,lightweight and beautiful surface, high-quality PCB (cooperated with Myriwell), Safe and funnly thanks to its fast cool technology.

Temperature adjustable. ABS/PLA filaments available, colorful drawing will be more attractive

3d pen is a creative indoor and outdoor toy, Chrismas gift or Birthday gift.

An excellent tool for making crafts, home decor, gifts, and much more. The masterpieces draw out by the pen can used for home deco, the time u spend with your kids& your friends & family& yourself , which can also be a wonderful memory.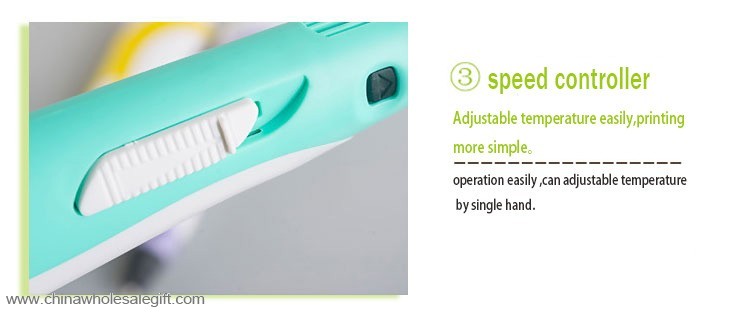 How to use?
Step 1: Connect your 3D pen to the power adaptor
Connect the power adaptor to the back of the 3D pen and plug it into a power source.
When the yellow led turns on, the pen is in the preheat status.
Step 2: Allow your 3D pen to heat up before loading filament
Press the "wire feeding" button, so the red LED turns on. After 30 seconds, the red LED will turn into green, preheating is done and the pen is ready.
Step3: Load the pen
Insert the ABS/PAL filament into the "wire loading hole" which is at the end of the pen. Keep on
pressing the "wire feeding" button, the material will be loaded by built-in motor. Hold till the
plastic material comes out from the nozzle nip, so the material loading is finished.
Step4: Draw &adjust your speed
Keep pressing the wire feeding button and draw your 3D objects. The speed of extrusion is
adjustable by speed controller. Releasing the button will cause the pen to stop extruding.
NOTE :The device will switch to standby mode if not being used over 5minutes. The LED light
will be off. If you want to use it again, press the"wire feeding"button to restart.
Step5: Unloading Filament
When you want to unload or change the filament, you should press the wire unloading button,
You may need to adjust the speed controller.
Warning:
This 3d pen printer is suitable for children over 8 years old and adult use, Children should use it under the tutelage of adult.

*The 3d pen nib and the near area are dangerous high temperature area, do not touch the nib with hands or touch others objects with the nib.
*Do not block the wire loading hole with foreign body.
If you want to make custom 3d printer pen with LCD screen with your logo,slogan,telephone,website,email , please send us your design or give us instructions about your imprint.We'll send a free virtual art proof for your approval,you can ask a real sample with logo before production too.
Our 3d printer pen with LCD screen is popular as promotional,advertising, business,corporate gifts.
Didn't have a good gifts idea yet? We also have a team can give you suggestion, all of them have more than 8 year experience in gifts market, familar with promotions,events,trade show,conferences etc. If you have any question , just click the Enquiry below to send us messages.
Customer Comments
Question & Answers
Imprint Colors
Standard Silk-Screen Colors
SET UP CHARGE
$40.00(G) per color, per side. $25.00(G) on re-orders.
Multi-color Imprint
Add .20(G) per extra color, per side, per piece. (2 Color Maximum) Second Side Imprint: Add .20(G) per color, per piece.
You can send CWSGift your logo or give us instructions about your imprint by simply replying to the enquriy or quotation email.
You should receive a free virtual art proof for your approval before production.
You can ask a real sample with logo before production too
Imprint Artwork
We accept high-quality laser prints, or digital art on CDs or by e-mail. For faster serviceand better imprint quality, we recommend providing artwork via e-mail. Artwork shouldnot need any additional touch-up, design, color separation or rearranging for use.
The use of licensed artwork requires a written release. Artwork when submitted isassumed to be in full compliance with laws governing copyrights, trademarks, etc.We are not responsible for typographical errors incorporated into submitted artwork.Factory reserves the right to make slight alterations in copy and logos to adapt to imprinting processes.
Please Note: CWSGift reserves the right not to print any logo or message that isdeemed inappropriate.
QR Codes: QR codes are most readable when printed on flat surfaces using a highcontrastimprint [such as a white imprint on dark surfaces or a black imprint on lightsurfaces]. QR codes may not be readable when printed on coarse-weave materials orcurved surfaces. For the best results, the QR code should be black with a white border.A pre-production proof is recommended to test the functionality of the code.CWSGift is not responsible for the quality, accuracy or usefulness of QR codeoperations or content. CWSGift does not police or endorse any QR code content.
Electronic Artwork
Artwork will be accepted digitally from the following programs:
Adobe Illustrator® (all fonts converted to outlines)—preferred format
Photoshop® (black-and-white .tiff, .pict, .jpeg files scanned or created at 1200 DPI[high resolution] and at approximately the actual size of the imprint area)
FreeHand® (saved as an Adobe Illustrator® ".ai" format, Mac or PC)
InDesign® files must be sent with the linked file. A linked file may include .eps, .pict,.tiff or .jpeg file formats
CorelDraw® (Use Publish PDF)
Vector Art
We recommend using vector art because it produces the highest quality artwork.It is "resolution independent," which means it can be enlarged without affecting the quality of your imprint.
Hard-Copy Artwork
If electronic art is not available, please provide sharp, high-contrast, color-separated or black-and-white artwork. Artwork will be returned upon request or it will be discarded.
E-mail Artwork
Artwork should be submitted within 24 hours of sending the order.Please include purchase order number in the subject line of the e-mail. Multiple files should be compressed in .zip or .rar format. File size limitation via e-mail is 10MB.
One year Product Guarantee.
CWSGift will honor its return policy for any product that it determines does not meet its standards for quality and workmanship.
CWSGift are committed to working with our vendors and employees to incorporate environmentally friendly business practices into our daily operations. These measures benefit our local communities, states and society at large.
We will continue to identify and act on opportunities to minimize our impact on the environment.
Pre Order Processing: 3 days
Production 20 days (begins after art prep, proof approval)
Shipping by Express 3 to 6 days
by sea 20 to 30 days
Packaging:Bulk packed or according to your requirement,Special packaging may incur additional production time.
Production Terms & Conditions
Production does not begin until ALL the following requirements have been met:
Order Approval
Proof Approval
Deposit Payment