Product Detailed Description
How to use 3D glasses ?

1.Down load vr app or side by side 3D movies ,or 3D games into your phone .

2.Put your phone into 3D glasses .

3.Wear the 3D glasses , adjust it until you feel comfortable and you can see the screen clearly

4. If you want to play 3D games , you can connect your phone with remote control via bluetooth to control your phone .


3D Glasses:

VR SHINECON is a Newest Multifunction and high quality 3D glasses.

1.Pupil distance adjusting button .

2.Adsorption type switch.

3.The object distance adjusting button.

4.Removable adsrption front cover .

5.Human body engineering cortical patch .

6.Optical glasses.

7.Focus adjustment knob.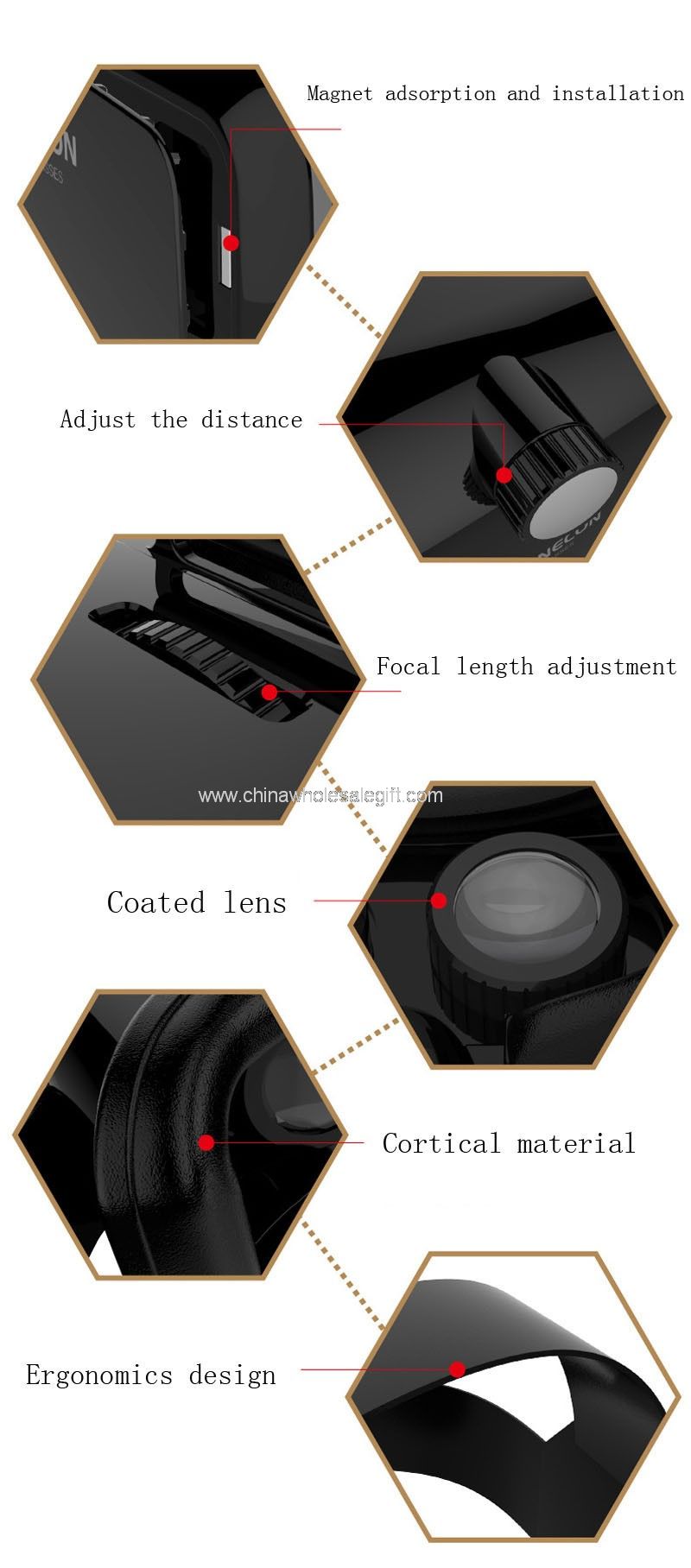 How to Use ?

1.Download and play test video:

Pls use a mobile phone to scan qr cose into the software download interface , according to choose to install 3d broadcast sowing APP phone system , download the test about whether or not split screen video and games and normal play .

2.How to use the device :

Gently open the adsorption type switch at the top , hold the mobile phone screen facing inwardly , gently touch scale adjustment card slot , place your phone , and then close the cover plate , if you find the picture is upside down , pls adjusting the direction of mobile phone .

3.The Lens adjustment function :

PD adjustment : Adjust the PD of lens.

Object distance adjustment : Object distance adjustment can adapt myopia , without wearing myupia lens .

Bluetooth Remote Controller:

1.Built-in 185mA rechargeable lithium battery; Continuous work 40 hours

2.Bluetooth 3.0,Long distances for use, up to 2-10m/6.6-32.8feet long distances for use

3.Compatible with IOS, android, PC system; Can be used in mobile phones, tablet PC, computers

4.Be used as a remote controller to take photos or as a mobile phone tablet computer game controller gamepad

5.Micro connector Interface charger Not included

Play games, taking pictures, listening to music, VR resources, 3d games, e-books flip, omnipotent, universal bluetooth remote control handle.

TV box remote control, PC computer remote control, 3 d game controllers, wireless mouse, etc.

Support the iOS system, Android system, PC system.

Portable hanging hole design,it can hang on the key chain can be used as mobile phone, tablet PC timer.

Size: 7.3x3.1x1.3cm/2.9x1.2x0.5inch.

Notice: When you play a game, you need to pull the side button to "GAME", and the game itself to support the handle function.



Package List:



1 x VR Shinecon 3D Virtual Reality Glasses

1 x Warranty Card

1 x User Manual

1 x Cleaning Cloth

1 x Sticker

1 x Bluetooth Controller
If you want to make custom 3d movies / 3d Games Movie VR box 3D glasses for 4.7 - 6.0 inch Phone with your logo,slogan,telephone,website,email , please send us your design or give us instructions about your imprint.We'll send a free virtual art proof for your approval,you can ask a real sample with logo before production too.
Our 3d movies / 3d Games Movie VR box 3D glasses for 4.7 - 6.0 inch Phone is popular as promotional,advertising, business,corporate gifts.
Didn't have a good gifts idea yet? We also have a team can give you suggestion, all of them have more than 8 year experience in gifts market, familar with promotions,events,trade show,conferences etc. If you have any question , just click the Enquiry below to send us messages.
Customer Comments
Question & Answers
Imprint Colors
Standard Silk-Screen Colors
SET UP CHARGE
$40.00(G) per color, per side. $25.00(G) on re-orders.
Multi-color Imprint
Add .20(G) per extra color, per side, per piece. (2 Color Maximum) Second Side Imprint: Add .20(G) per color, per piece.
You can send CWSGift your logo or give us instructions about your imprint by simply replying to the enquriy or quotation email.
You should receive a free virtual art proof for your approval before production.
You can ask a real sample with logo before production too
Imprint Artwork
We accept high-quality laser prints, or digital art on CDs or by e-mail. For faster serviceand better imprint quality, we recommend providing artwork via e-mail. Artwork shouldnot need any additional touch-up, design, color separation or rearranging for use.
The use of licensed artwork requires a written release. Artwork when submitted isassumed to be in full compliance with laws governing copyrights, trademarks, etc.We are not responsible for typographical errors incorporated into submitted artwork.Factory reserves the right to make slight alterations in copy and logos to adapt to imprinting processes.
Please Note: CWSGift reserves the right not to print any logo or message that isdeemed inappropriate.
QR Codes: QR codes are most readable when printed on flat surfaces using a highcontrastimprint [such as a white imprint on dark surfaces or a black imprint on lightsurfaces]. QR codes may not be readable when printed on coarse-weave materials orcurved surfaces. For the best results, the QR code should be black with a white border.A pre-production proof is recommended to test the functionality of the code.CWSGift is not responsible for the quality, accuracy or usefulness of QR codeoperations or content. CWSGift does not police or endorse any QR code content.
Electronic Artwork
Artwork will be accepted digitally from the following programs:
Adobe Illustrator® (all fonts converted to outlines)—preferred format
Photoshop® (black-and-white .tiff, .pict, .jpeg files scanned or created at 1200 DPI[high resolution] and at approximately the actual size of the imprint area)
FreeHand® (saved as an Adobe Illustrator® ".ai" format, Mac or PC)
InDesign® files must be sent with the linked file. A linked file may include .eps, .pict,.tiff or .jpeg file formats
CorelDraw® (Use Publish PDF)
Vector Art
We recommend using vector art because it produces the highest quality artwork.It is "resolution independent," which means it can be enlarged without affecting the quality of your imprint.
Hard-Copy Artwork
If electronic art is not available, please provide sharp, high-contrast, color-separated or black-and-white artwork. Artwork will be returned upon request or it will be discarded.
E-mail Artwork
Artwork should be submitted within 24 hours of sending the order.Please include purchase order number in the subject line of the e-mail. Multiple files should be compressed in .zip or .rar format. File size limitation via e-mail is 10MB.
One year Product Guarantee.
CWSGift will honor its return policy for any product that it determines does not meet its standards for quality and workmanship.
CWSGift are committed to working with our vendors and employees to incorporate environmentally friendly business practices into our daily operations. These measures benefit our local communities, states and society at large.
We will continue to identify and act on opportunities to minimize our impact on the environment.
Pre Order Processing: 3 days
Production 20 days (begins after art prep, proof approval)
Shipping by Express 3 to 6 days
by sea 20 to 30 days
Packaging:Bulk packed or according to your requirement,Special packaging may incur additional production time.
Production Terms & Conditions
Production does not begin until ALL the following requirements have been met:
Order Approval
Proof Approval
Deposit Payment